Want to have Didaktic's puppy?
We are breeding one to two litters per year. All our combinations are closely planned. The litters are results of planning, digging up the information, going through the pedigrees and all the  pros and cons of the planned breeding. We have almost 30 years of experience of Australian Kelpies. We do not breed for living. When we think our combinations the most important criterion is try to improve our breed quality
Our main target is to breed healthy and beautiful dogs with good, breed typical temperament. All our puppies are raised up in middle of normal home environment. They get used to daily household routines, children, different people and other dogs. Our puppies are like children to us, so I hope you are prepare to stay in touch every now and then during the whole life of your puppy.
DIDAKTIC'S puppies are available only for active people who keep and love their dogs like real family members!
At 2016 Kennel Didaktic's was awarded with Finnish Kennel Clubs VUOLASVIRTA-prize from very high quality Australian Kelpie breeding!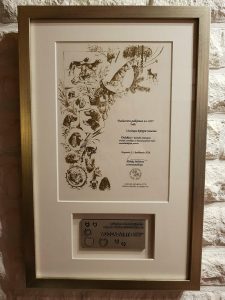 All our puppies are registered in Finnish Kennel Club (SKL). They are ID-marked with microchips and de-wormed. Puppies will be examined by veterinary before going into their new homes. All puppies who will travel abroad will get EU-passport. If you wish to get Didaktic's puppy of your own, please contact us in advance. And be ready to answer for a good amount of questions