Didaktic's OMG keep on going strong. She is not even two year old and she in already our most winning show Kelpie – massive amount of titles and breed clubs Kelpie of the year 2018.
At Hamina NORD kelpies where judged by Paavo Mattila, Finland
Hamina NORD, tuomarina Paavo Mattila.
Didaktic's OMG
AVO ERI1 SA, PN1, SERT, NORD SERT & ROP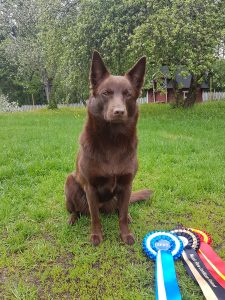 "Erinomainen narttu. Kaunis pää ja ilme. Kauniit korvat. Erinomainen kaula, samoin runko ja luusto. Hyvä ylälinja. Erittäin hyvä karva. Hyvät tehokkaat liikkeet. Seistessä hyvin kauniit ääriviivat. Miellyttävä käytös."