It sure looks like Dana is pregnant!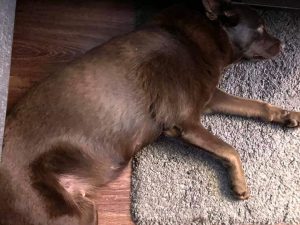 There are still weeks to go so lets see how big litter there is hiding inside of her belly. There has been so many inquiries over this litter that I cannot take any more to this list but there will be two interesting litters at 2020.
Early 2020 there will be a litter to Sinni, Didaktic's My Kinda Girl – U-litter. That list of inquiries is also quite full but let's see how things will develop. Early summer there will be a litter to Dana's sister Leia where I also managed to find very suitable male that I know since he was a puppy and I also know his background very well. Here you can find more information about that V-litter.