Didaktic's OMG, "Myy" and her owner Marika went over to Amsterdam to participate three shows during one weekend: Benelux Winner, WDS and Special Show. Myy did a hat trick by gaining three new titles in three days. What a girl! Thank you to all judges who have appreciate her quality.
Benelux Winner Netherlands 2018
Didaktic's OMG: JUN EXC1, double-CAC, BF1, BOB-jun, BOS, Benelux Junior Winner Netherlands 2018.
Judge: Lokodi Csaba Zsolt (Romania)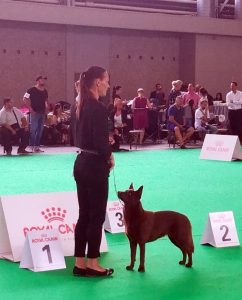 World Winner 2018
Didaktic's OMG: EXC1, double-CAC, BOB-junior, Junior World Winner 2018
Judge: Vermeire Myriam (Belgium)
Special Show – Amsterdam
Didaktic's OMG: EXC1, BOB-jun, BF1, double-CAC, BOS -> NL JCH
Judge: Erica Bakker-Van De Woestijne, (The Netherlands)
With age of one year and one month Didaktic's OMG, "Myy" has gained all of this:
JUNIOR WORLD WINNER 2018
BENELUX JUNIOR WINNER NL 2018
ESTONIAN WINNER 2018
ESTONIAN JUNIOR WINNER 2018
LATVIAN JUNIOR WINNER 2018
DUTCH JUNIOR CHAMPION
BALTIC JUNIOR CHAMPION
ESTONIAN JUNIOR CHAMPION
LATVIAN JUNIOR CHAMPION
LITHUANIAN JUNIOR CHAMPION